Polygon Shows Sign of Recovery; MATIC May Hit $1.90 Soon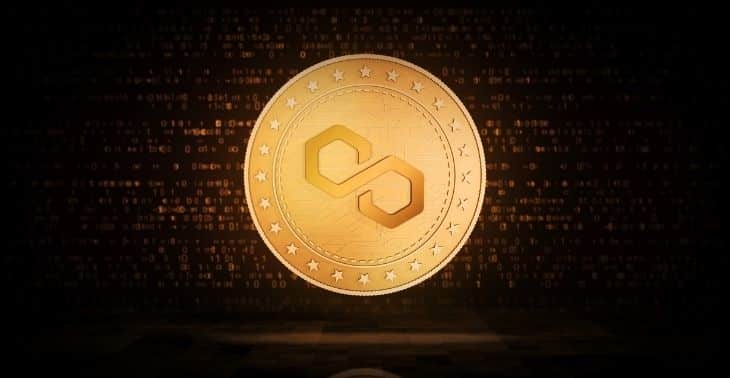 MATIC is designed to scale the Ethereum Mainnet. This layer-2 scaling solution is based on a decentralized security model, enabling secure, easy, and fast transactions. Popular blockchains like Bitcoin and Ethereum have one drawback, i.e., it is not scalable; Polygon comes with a solution. It is used to meet the transaction volume, and security level users demand. The platform also has a smooth, user-friendly interface. Moreover, it offers features like scalability, horizontal scaling, and sidechain. 
It is an Indian blockchain platform, but it bloomed when American Mark Cuban invested in it, and he promoted the network and successfully created hype in the market. The price rises as it offers faster, cheaper, and secure transactions and integrates well with the Ethereum blockchain network. It has four distinct layers: Ethereum layer, Security layer, Network layer, and Execution layer.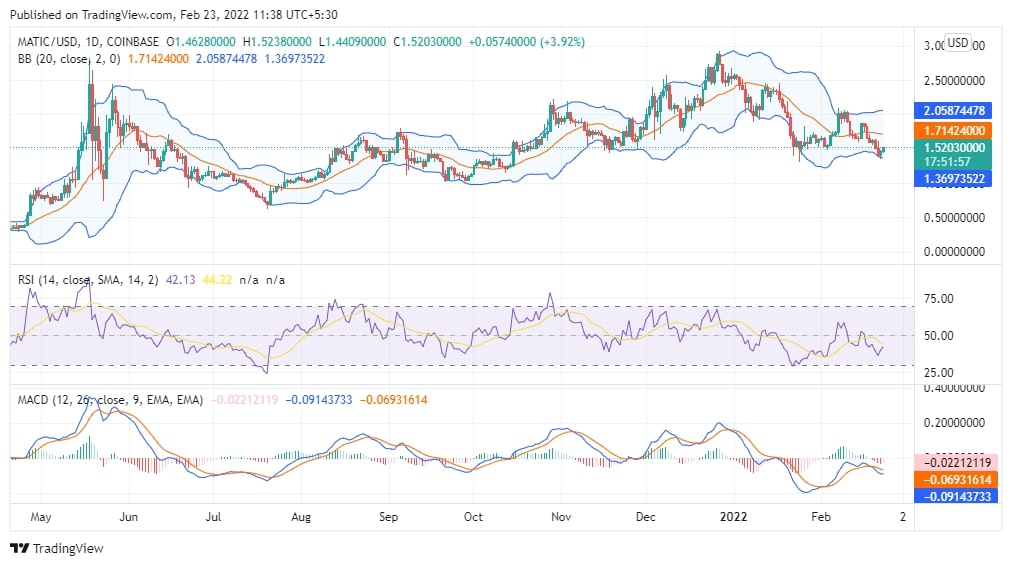 At the time of writing, Polygon's price is trading around a support level of $1.52. Based on MATIC price prediction, it will break the level in the next few months in this volatile market. Otherwise, it will consolidate within a range of $1.36 and $2. The price of Polygon crypto will stay at this level for a couple of weeks in the short term. 
On the daily chart, MACD is bearish, and the RSI is around 40. The Bollinger Band shows a sign of short-term recovery, but it will not last long because the candlestick will face resistance of around $1.60.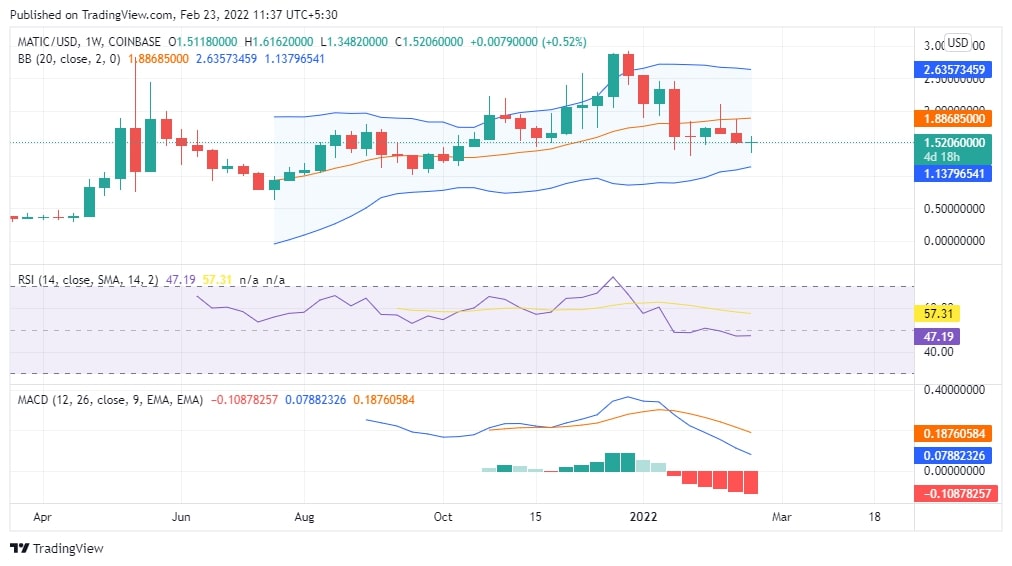 After reaching an all-time high of $2.90, MATIC is in a downtrend. On the weekly chart, MACD is bearish, the RSI is around 46, and the candlesticks are in the lower half of the Bollinger Band. All these indicators suggest bearishness. Last year, it formed higher highs and higher lows, but it changed the momentum from the 2nd week of January. 
We think $1.08 would be the ideal price to buy MATIC coins for the long term, and it is not the ideal chart for short-term investment. As a long-term investor, you can start accumulating some coins from this range, and you should buy more coins if the price breaks the support level. 
This coin is backed by solid fundamentals and use cases. Polygon is a popular network that enhances the scalability of the Ethereum blockchain, and investors think it has a vast potential to give a good return in the future. For short-term investors, the target price would be $1.92, and for the long term, the sky's the limit.