Jeff Bezos, Bill Gates and Warren Buffet Top Richest Person of World, Mark Zuckerberg Down by 3 Positions – Forbes List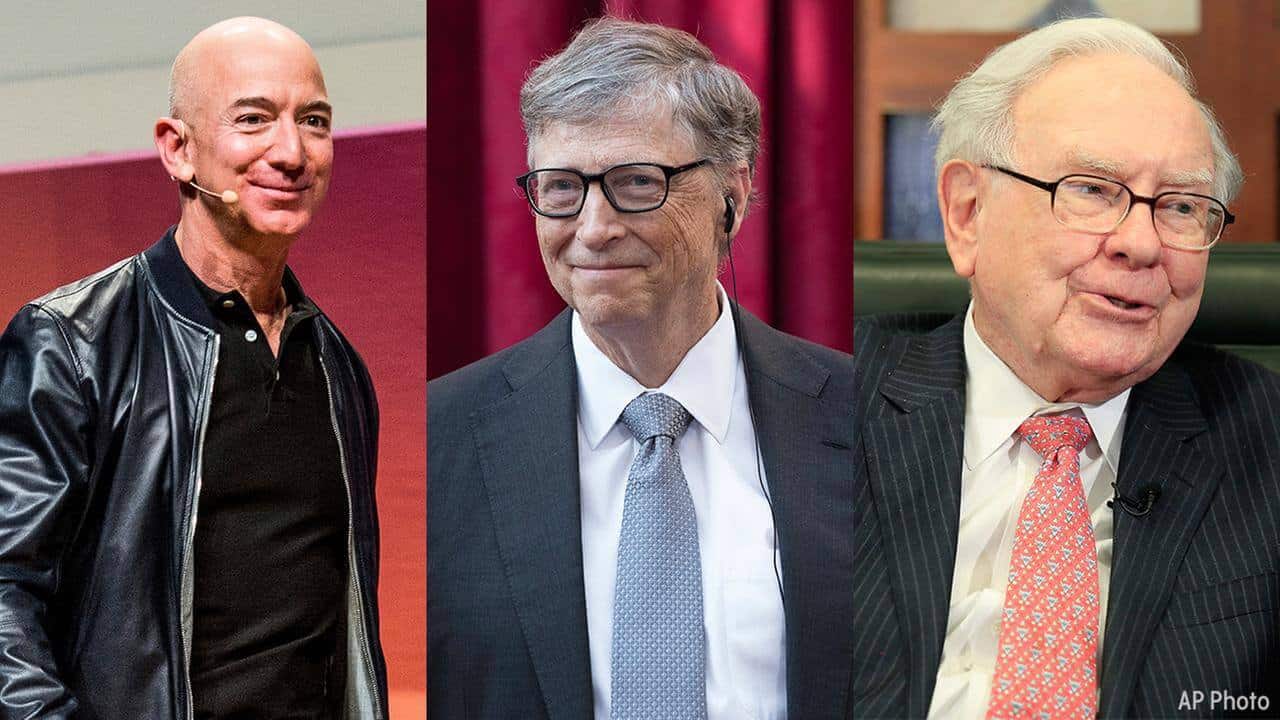 The founder of Amazon Inc., Jeff Bezos holds the top position as the world's wealthiest person; he is ahead of Bill Gates and Warren Buffet in the Forbes List, data according to recent Forbes list of the extremely wealthiest person. Meanwhile, the Facebook co-founder has slipped by 3 positions, and former New York Mayor Michael Bloomberg has climbed by two positions, the US President Donald Trump has jumped to 51st position in the Forbes ultra-ranking list.
Things seem to be significantly good at the top in the ranking. As per the Forbes list, that was published on Tuesday by Forbes mentions that Jeff Bezos who is 55 has remained at the top position and has increased his wealth by $19 million in a year, and as of now his wealth is around 131 billion dollars.
Jeff Bezos holds 16 percent of stake in Amazon. The left wing of the US Democratic Party is targeting him because of his wealth that has increased the money gap between Bezos and Gates.
Bill Gates is the founder of Microsoft and a philanthropist. He is 63 and has observed his wealth increasing to $96.5 billion which has climbed up from 90 billion in the previous year, Forbes stated.
Interestingly, the Forbes ultra-rich list has been dominated by Americans. Out of the top 20 billionaires, 14 billionaires are Americans and are from the US.
According to magazine prediction, Warren Buffet's holding has decreased by 1.5 billion, and now the worth is 82.5 billion dollars. He is at third place in the Forbes list; 88 years old Buffest is believed to be an investment guru. He was shocked in February to see a huge downfall in the shares of Kraft Heinz, which is a US processed food producer, the firm in which he had invested and held money.
French Luxury good company LVMH CEO, Bernard Arnault has been at 4th position, however, Facebook founder Mark Zuckerberg has nearly lost 9 billion dollars of his net worth and has moved down to 8th position. Earlier, he was at 5th position in the Forbes list.
Mexican tycoon Carlos Slim has overtaken Mark Zuckerberg, Zara and Inditex founder Amancio Ortega of Spain and Larry Ellison-the co-founder of Oracle. With that, Bloomberg moved to 9th position from 11th position as his company worth rose to 55.5 billion dollars, Forbes stated.
Other billionaires who are included in the top 20 billionaires list are non-Americans namely, Mukesh Ambani who is the Chairman of Reliance Industries. He is ranked at 13th place and the Head of Chinese internet company Tencent, Ma Huateng has made his presence in the top 20 Forbes list.
While, the US President Donald Trump has been ranked at 715th position and according to the Forbes estimation, Trump's wealth is at 3.1 billion dollars which has been the same from the previous year. Trump has been ranked at 715 in Forbes list, last year he was ranked at 766th position.
Donald Trump is not the richest person of US who has been elected to the highest post; rather the credit goes to a Democrat, J.B. Pritzker who took over the post of governor of Illinois in January. J. B. Pritzker who is the owner of the Hyatt hotel has valued his worth to be around 3.2 billion dollars.