Ripple's Lawsuit Against YouTube and Its Implications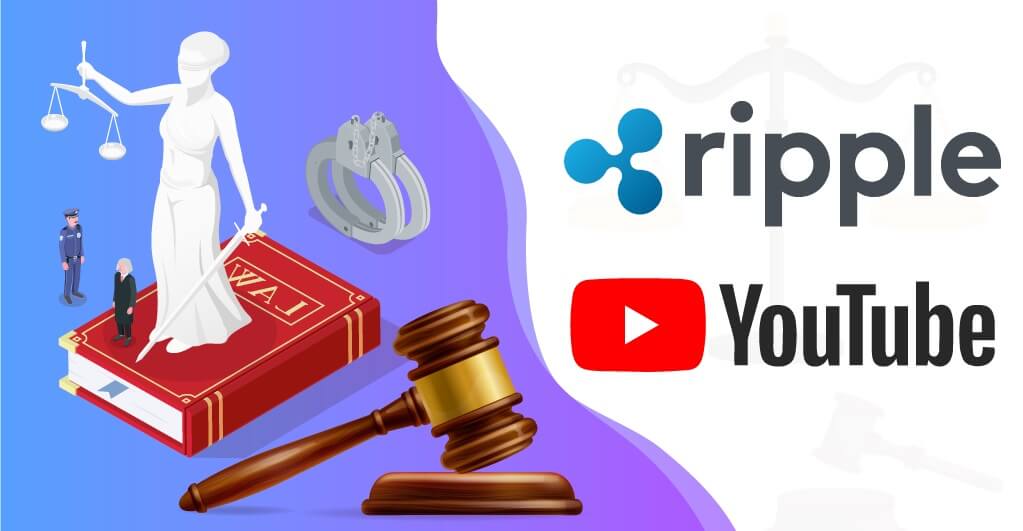 The world of business is highly dynamic and in a state of flux, especially in the digital age, with digital currencies playing a major role. However, 'trust and transparency' still remain the basic pillars of any business organization, large or small, and some enterprises attach great importance to these principles. Ripple is one such organization that values these foundational principles from the sharing of XRP market reports to seeking regulatory clarity across the industry. The company has recently come in the news owing to the lawsuit it has filed against video giant YouTube for alleged scams. The need to maintain the security of customers and sensitive data from perilous online scams and false impersonifications across social media platforms like Facebook, Twitter and YouTube have prompted strict action. 
Ripple believes that taking prompt legal action would set an exemplary standard for industry-wide regulations, behavioral changes, and improved expectations of accountability. This would also send across a warning against such scamsters spread across various platforms as 'giveaway scams' is on the rise.
Giveaway scam is an industry term that relates to attempts to defraud money from unassuming consumers via social media impersonation, by convincing people that if they send money, they will receive more funds in return—typically through airdrop.
A typical characteristic of these scams is the impersonification of individuals or companies through the creation of fake profiles on social media platforms. It is already being anticipated that the world economy has been entering into a deep crisis, where people are worried about losing their livelihoods along with a dire need to protect their health. Such scams add to the anxiety and inconvenience of users and Ripple is making sincere efforts to create awareness by coming up with a guide to identify and spot such giveaway scams and ensure user safety.
The lawsuit has demanded that YouTube has to take a more aggressive stand to spot such scams before they are posted on any public platform. The crisis owing to COVID-19 has given rise to new kinds of scams and the Federal Trade Commission has recently brought out the very many COVID-19 scams in a report. A loss amounting to almost $13 million has been pointed out by consumers due to frauds related to COVID-19 and the number is growing every day. Lack of information is far less harmful than misinformation, which can have serious adverse effects or short term positive effects, whose bubble would soon burst. The Blockchain and Crypto industry are particularly susceptible to misleading information as information plays a decisive role in an innovation-based sector. Such giveaways not only affect a single organization but creates obstacles for the industry as a whole. Thus Ripple has decided to take strong steps to prevent such impediments in the future, and the lawsuit is a necessary step in that direction. 
The company has hired external cybersecurity and digital intelligence vendor to deal with scams specific to Ripple through reporting and taking down. Besides, XRP has come up with its own submission form to help the members of the community to report any unusual activity. However, in the lawsuit against the video platform, Ripple and Garlinghouse have blamed the former for denigrating the company's image and reputation. They demanded a specific amount of financial compensation and that YouTube should be prohibited from making further profits from the scams and immediately take them down. In such scams the fraudsters ask for small amounts from their targets in return of enormous returns, and later escape with the amount made. To do so, they use the image of important business leaders like Bill Gates and offer "giveaways," and buy keywords like Ripple and Brad Garlinghouse so that people searching for these can be made easy targets.
Although many search results with such terms have yielded correct information, there are a number of videos that have used Garlinghouse's image to entrap victims.
In this case, the complaint cites numerous instances where hackers took over the channels of legitimate creators and replaced their videos with ones advertising Ripple-related scams. The scammy Ripple videos often show media interviews with Garlinghouse lifted from reputable sources and overlaid with invitations to participate in "giveaways" of the cryptocurrency XRP.
The complaint also accuses YouTube of allowing such videos to spread and gaining profits from their promotions instead of restricting them. YouTube has responded by saying,
We take abuse of our platform seriously, and take action quickly when we detect violations of our policies, such as scams or impersonation.
The crypto community has come in support of Ripple in increasing numbers, including young entrepreneurs like Nischal Shetty, founder of WazirXIndia, and Crowdfire. Many have condemned social media platforms for accommodating such scams even if they compromise with user safety, as it increases "engagement on their platform."  Financial Analyst and YouTuber Tone Vays has also tweeted about the scam and asked YouTube to take down all such "scammy" videos. The crypto community is hopeful that this step would serve as a good example, increasing caution among users and social media platforms who are expected to be careful with their content and its purpose.