2020 Landmark Year for Bitcoin Countries Where Legalized and Banned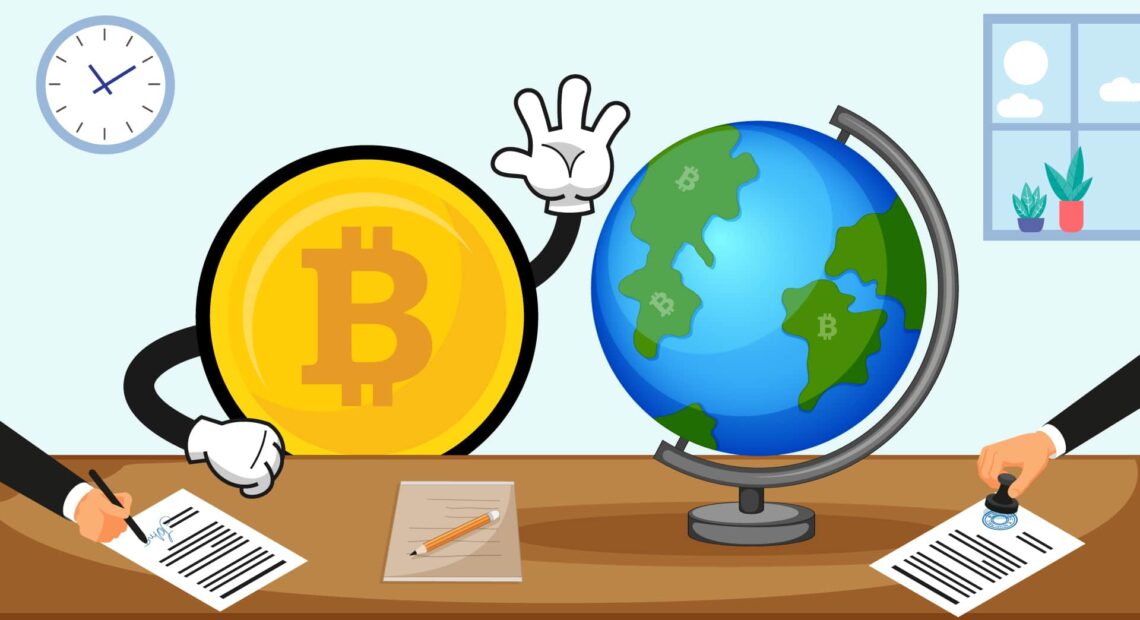 Bitcoin is a digital currency created in 2009 by Satoshi Nakamoto; however, his real identity has never been revealed; it can be a person or an organization. Unlike fiat currencies like dollars or Euro, Bitcoin is not a tangible item and exists only in the virtual world, i.e., the Internet. Blockchain ledgers keep track of Bitcoins, which can be received or sent by anyone anonymously through Bitcoin address and peer-to-peer transactions.
There are several similarities with traditional currencies. Bitcoin is traded on various crypto trading exchanges worldwide, and this supply and demand help determine its price. But the price of this cryptocurrency can be very volatile when it comes to the exchange rate with government-issued currencies. There are two reasons for this. One, the volume of available Bitcoin is limited as mining the digital coin requires the skilled technicians' expertise and the installation of very advanced computers. Few people can afford it. Two, speculation mainly powers Bitcoin prices, and here the sky is the limit.
Statutory and Legal Issues with Bitcoin
Bitcoin can be issued and mined by anybody with the necessary infrastructure, and the marketplace for the coin is not regulated. Without a centralized issuing authority, countries do not have any control over trading or transactions in Bitcoins. The address that a Bitcoin is linked to does not have any identification marks like Social Security Numbers or bank accounts details. Hence Bitcoins are untraceable and thus prone to be used in illegal activities.
When Bitcoin was first introduced, it became a standard form of currency for drug peddlers and traffickers. The famous Silk Road market in the USA is testimony to it. It consisted of the dark web where all dealings were hidden, and users paid in Bitcoins to procure drugs. Eventually, the FBI latched on to this network and shut it down in October 2013.
However, those seeking anonymity for illegal activities are now moving away from Bitcoin to other cryptocurrencies like Monero and Zeash that offer more enhanced privacy protection than Bitcoin. In Bitcoin, a permanent public record is created on the Blockchain, an immutable part of the coin's digital structure. Whenever a person is linked to a Bitcoin address, he/she is automatically linked to that address for all transactions.
The fact that the type of transactions and its purpose can be hidden from the public domain has resulted in several countries banning Bitcoin, while in many others, this virtual coin is legit.
Countries where Bitcoin is Banned
Several countries have banned the Bitcoin's use mainly because of the decentralized nature and the threat it poses to the official mainstream financial system. Some countries have banned the crypto coin until a regulatory framework is framed.
Countries that have banned Bitcoins are Afghanistan, Albania, Bolivia, Bangladesh, Pakistan, Qatar, Saudi Arabia, The Republic of Macedonia, Vanuatu, and Vietnam.
There are others where Bitcoin has not been fully banned, but severe government restrictions have been placed on usage and cannot be used for payments or trading. Financial service providers and banks have been prohibited from transacting with companies dealing in crypto. These countries are China, Ecuador, India, Indonesia, Morocco, Nepal, Egypt, Zambia, and American Samoa.
Countries where Bitcoin is Legal
It is heartening to note that there are 111 countries globally where Bitcoins are recognized by law and legitimate. Most crypto-friendly countries, while legalizing Bitcoins, have implemented strict anti-money laundering laws to ensure that transactions are above board and legal. Crypto exchanges operating in these countries scrupulously follow the statutory norms as required.
Among the most Bitcoin-friendly countries are Japan, the U.K, the USA, Germany, Singapore, Switzerland, Hong Kong, Bermuda, Estonia, Slovenia, and the Netherlands.
Even though Bitcoin is legit in these countries, it is not treated as legal tender and, for tax calculations, considered property instead of currency. Hence, holders of Bitcoins are liable to pay taxes.
The 2020 Landmark Bitcoin Case in India
After the Indian Prime Minister banned almost 80% of the country's fiat currency and brought in new denominations, there was a sudden rise in crypto transactions and a string of frauds in 2018, months after the ban was implemented. This led to Bitcoin and other crypto being prohibited from trading or for any transactions. But the crypto exchanges fought back and filed a lawsuit for lifting the ban in the Supreme Court in the country.
In a landmark judgment in March 2020, the Court decided to reverse the Government decisions, which saw a nearly 450% surge in crypto transactions, including Bitcoin.
However, stung by the reverse, the Government is introducing a bill in Parliament, which will encourage Blockchain technology on which Bitcoin is founded but will prohibit trading in the cryptocurrency. If you want to trade or invest in Bitcoin then you must choose the best trading platform that can lead you to earn good money. Bitcoin robot is one of the innovative & unique platforms that can lead you to earn a good chunk of profit from Bitcoin trading. Check out the list of Best Bitcoin Robot and choose from them to maximize your profit.