InvestXE Review
Introduction
InvestXE presents itself as a trading house for cryptocurrencies, soft commodities, currency options, precious metals, and energy commodities. InvestXE offers an exclusive trading experience and simple to use trading platforms that promise to satisfy both new and seasoned traders alike. It provides over 16,000 assets to trade with three main types of accounts. InvestXE has earned fame for its excellent customer support. It promises to offer something of value to every level of trader. Whether you're a new trader looking for insights or advice from the trading experts or analysts or are a seasoned investor well-versed with the trading world, InvestXE has something in its arsenal for you. InvestXE emerged to offer extraordinary trading experiences to its users.
InvestXE offers a smooth and efficient trading experience with the education section and services. It provides its users access to top-notch tools and technologies so that they can maximize their trades in a short time. Let's have a look at the different account types, services, educational content, platforms, and customer support of InvestXE in this InvestXE review:
Types of Accounts
InvestXE presents three main types of accounts for its users. Users can choose an account type based on their trading experience and risk tolerance. If you select to go with the primary account type of InvestXE, you can make a move to other accounts to avail of their perks anytime as your experience increases, and you are ready to invest more.
Primary Accounts:
The first and foremost account at InvestXE is the Primary Account. For those who want to trade efficiently and successfully, primary account types offer every tool, resource, and insight. With intuitive trading platforms, they let you trade in more than 16000 assets. There is no other provider who allows you to trade such a large number of assets under one roof. Moreover, InvestXE is available in 170 countries. So, you can trade in from anywhere you want.
Standard Account: To open a standard account with InvestXE, you need to make minimum funding of BTC equal in value to $500. When you opt for an InvestXE standard account type, you get to trade multiple assets. You can also enjoy last-minute and periodic trading tips that can elevate your trading efficiency.

Progression Account: When it comes to learning, there is no limit to the Progression Account offered by InvestXE. You can become an industry expert by educating yourself through this account. You not only get the benefit of trading multiple assets and get various tips and hints from the experts, but you also get 90 days of access to its trading school and membership of its extensive webinar library. All this is available after you deposit BTC equivalent in value to $5000.

Advanced Account: If you are already familiar with trading and want to become highly successful, then the advanced account of InvestXE will give you all the tools required to benefit from the various markets. Along with trading multiple assets, getting tips and hints from the experts, you also get 24/7 assistance and guidance in your trades. This account also gives you membership to the InvestXE webinar library and access to MarketPro 1.0. It also comes with 180 days of access to the Trading School of InvestXE. The minimum funding needed to sign up for this account is BTC equivalent in value to $25000.
Professional Accounts:
As the name suggests, InvestXE Professional Accounts are the best for professional traders. They give you endless trading opportunities. Become a successful and professional trader by signing up for a professional account with InvestXE. You can get personalized feedback and advice to trade smartly with the tightest possible spreads. Professional account types are available in 2 tiers:
Gold Account: This is the first account under the Professional Accounts section. Available by depositing BTC equivalent in value to $75000, this account comes fully packed with services. With this account, you can start making big trades using its capability and tools. It gives you membership of its extensive webinar library, hours of technical support, informative content, and MarketPro 1.0 platform. With this account, you can rest assured knowing that the latest trading signals are delivered to your phone. Other perks that come with this account include personalized sessions, live trade review sessions with its analysts, leverage of up to 300:1, 24/7 support, and more.

Platinum Account: If you are a highly active trader, then the top-tier Platinum Account is the perfect option for you. It offers all that you need to become a top trader, from superior technology and tools to various resources and committed support. Besides all the advantages and features provided by a Gold Account, users of this account also get the benefit of better spreads that are up to 5 percent lower, access to its VIP rooms, and a direct hotline to its trading war room. The minimum funding for this account type in BTC is $150,000.
AutoXE Accounts:
For those looking for automated trading, InvestXE offers its AutoXE account. This account lets you run automated trading strategies in your brokerage account. It will save you both effort and time while you make successful trades. InvestXE analysts choose the best trading strategies by evaluating all the trading strategies run by the trading legends on its platform. They also rank them. It helps you select the best ones for you to run in your brokerage account. Trades are placed automatically once you set the desired parameters.
AnalystQ Services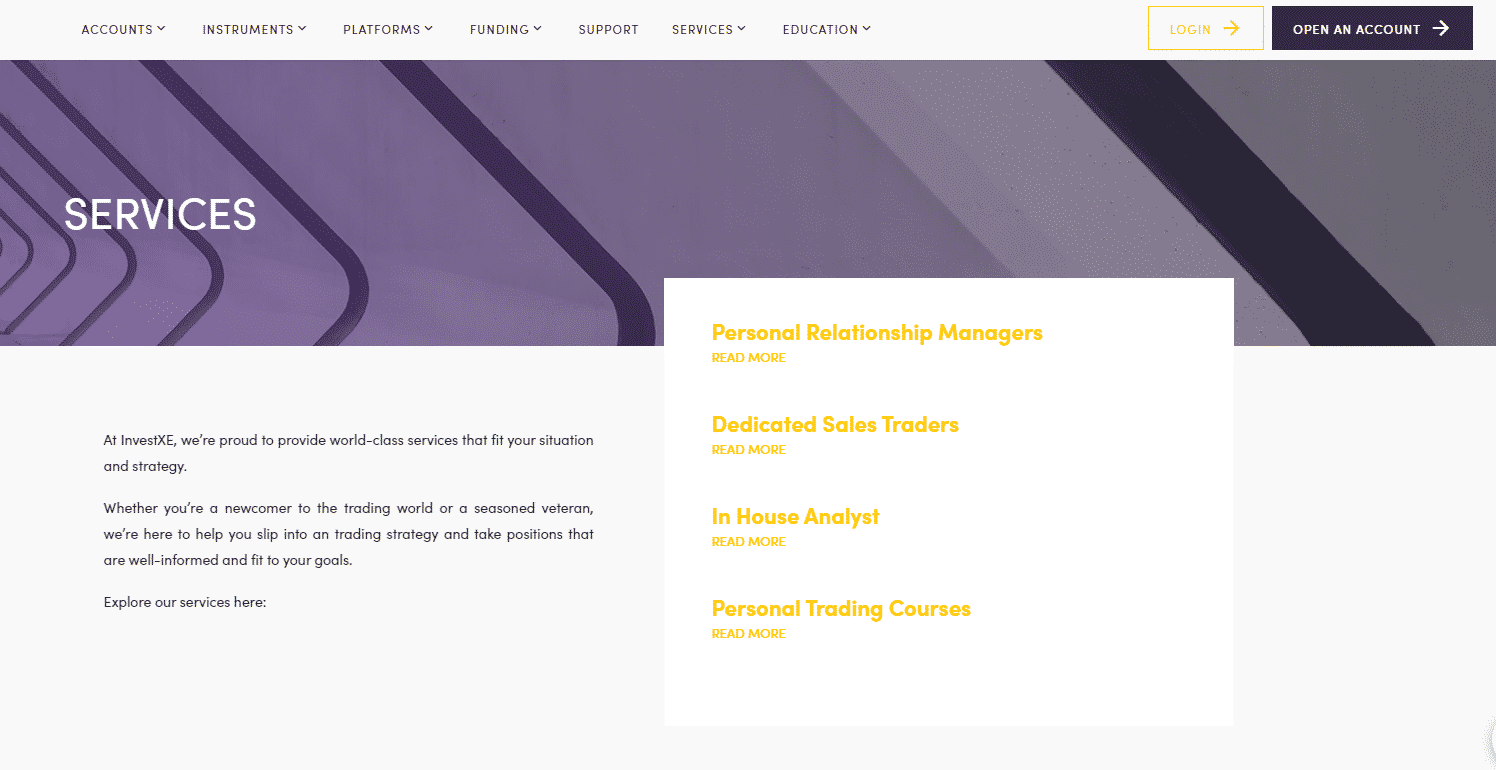 InvestXE Reviews- Services We Offered
At InvestXE, all the users and traders will come across trading strategies and assistance to suit their varied trading requirements and portfolio, no matter what their experience level is. Let's now have a look at the different services that InvestXE has in its store:
Dedicated Sales Traders: Dedicated sales traders at InvestXE cater to the newbies in the trading world. Newbies often find trading daunting and complicated as it offers a lot to learn. Moreover, the volatility of the market also makes it hard for them to succeed. InvestXE understands this and thus provides both new and active traders, dedicated sales traders who have years of experience under their belt. They can help users gain market insights along with delivering analytical support. Hence, new traders can trade confidently and successfully. They can also help with the admin, sales, and funding segments.
Personal Relationship Managers:Getting personalized support in the highly volatile trading market can be of great help. No matter which instrument you want to trade, if you make mistakes, you are at high risks. It is where a Personal Relationship Manager at InvestXE can be of great help. They can make your journey in the trading world smooth and use the market's volatility to your advantage. Thus, your chances of making profits also increase. You can get support from a personal relationship manager via email, phone, and one-to-one meetings.
In-House Analysts: InvestXE in-house analysts can help you build powerful trading portfolios. With their market study and research, in-house analysts offer traders the best trading insights and advice to save traders from any anxiety or stress. Thus, traders can rest assured to gain maximum profits on nearly every trade they make.
Personal Trading Courses: InvestXE offers self-training courses for all its users that can boost their trading skills, irrespective of their trading expertise. They are short, to-the-point, and simple to understand study materials that provide the knowledge needed by traders to succeed. Hone your intelligence and boost your confidence with learning through these courses.
Platforms
InvestXE lets you trade using five different platforms. Each platform comes with various benefits that are beneficial while trading. Rollover to find out more about each trading platform offered by InvestXE in this InvestXE review:
Android Trading App: Most people use Android devices these days. So, InvestXE offers an android trading app that is simple to use and handy. Using this platform, users can monitor the markets in real-time and stay active. It also helps users track the trading world information and research different tradable assets by getting push notifications.
iPhone Trading App: Just like the Android trading app, the iPhone Trading App of InvestXE is second to none. It lets users stay connected to the trading-related developments on the go. The app has a quick and user-friendly interface; thus, it makes it convenient for every trader to use this platform without missing any lucrative trading opportunity.
Tablet Trading App: InvestXE offers a tablet trading app too to make it convenient for traders of every level to make trades. It lets you check the newest market trends, check your trading status, and research the market. You can stay updated on the live pricing using this app and stay aware of all market conditions so that you make well-informed trading decisions.
Web Trader: The Web Trader platform of InvestXE is the best platform available for beginners. It is designed to make trading simple and user-friendly. Whether you want to learn new insights or get a solution on any issue, Web Trader can help. You can also evaluate market trends, get historical trading data, see the trending assets, and use multi-chart windows to compare different assets. Web Trader of InvestXE also gives you added security through 2-factor authentication and efficient risk management tools.
MarketPro 1.0: MarketPr 1.0 is the flagship platform of InvestXE. It offers remarkable trading opportunities for making successful trades. With this trading platform, you get instant access to top strategists, AI-driven bots, copy trading features, and technical indicators in real-time. Some of these features are free, while others are paid.
Instruments
There is no other platform that lets you trade more instruments and assets than InvestXE. You can trade-in 16000 different assets under five different instrument types.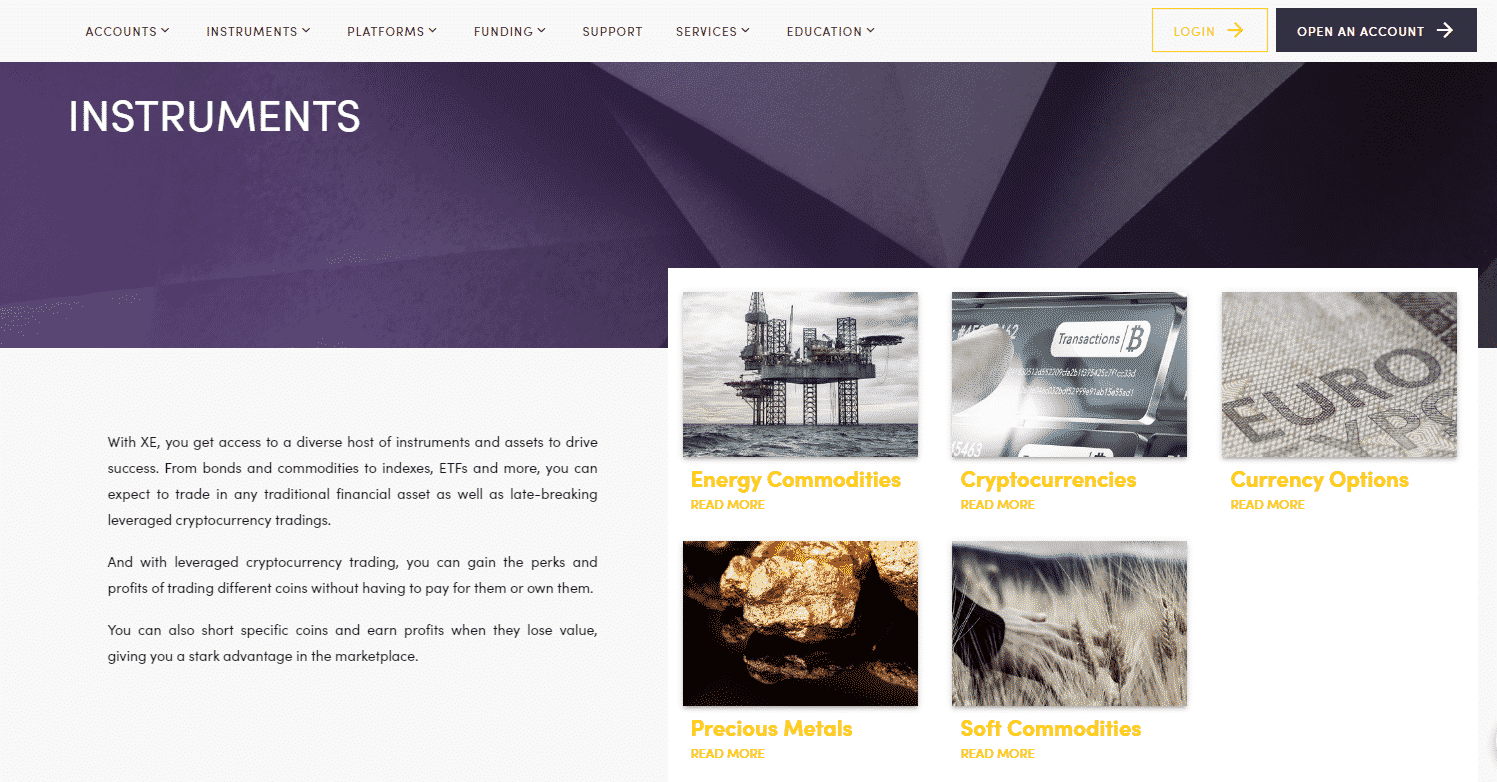 InvestXE Review- Instruments
Precious Metals: If you are a smart trader, trading precious metals can be quite beneficial. They are known as a profit-making instrument. They tend to keep on growing even during economic volatility. Precious metals can offer you ideal opportunities to diversify your portfolios. The Precious Metals that you can trade with InvestXE include silver, gold, platinum, and palladium.
Cryptocurrency: More and more people are looking to try their hand at crypto trading. It has become the fastest-growing and most active instrument to trade. InvestXE lets you trade-in them with its leveraging services even if you don't possess them. It has high-tech and sophisticated tools created to choose the best trading trends in the crypto market.
Soft Commodities: Whether it is cotton, cocoa, soybeans, or sugar, soft commodities always have high demands. The fluctuations in the soft commodities market open the doors for you to make profitable trades. InvestXE offers many strategies and options so that you can take benefit of this large market.
Energy Commodities: InvestXE platform lets you profitably trade energy commodities. Energy commodities include both renewables and non-renewables. Their prices can get affected by many factors like the economy, technologies, geopolitical situations, and more. It supports many trading options with sophisticated risk management tools and out-of-the-box customer support.
Currency Options: Trading currency options is a lucrative option. It is due to this that InvestXE offers lots of assistance and guidance in the form of different maturity ranges, around-the-clock trading facilities, 24/7 support, competitive pricing, and more.
Education
Though trading is known to bring high profits to some, it is also well-known for expensive mistakes. You can avoid making mistakes by taking up research and education-based decisions. So, InvestXE supports its users through well-researched educational programs. These programs can help you make the best trading decisions. InvestXE offers many useful and practical tools in the shape of educational courses. Master your trading skills and go high in your trading journey by taking up these courses.
Educational Courses: InvestXE has designed educational courses that cover nearly every level of trading experience. Beginners can get a grip on trading and get to know the trading know-how, while experienced traders can hone their skills and get new insights. You can find many educational courses at InvestXE covering topics like indices, stocks, leverages crypto trading, commodity trading, market trends, and more. You can also stay updated on the latest market trends and news when you subscribe for one such course.
Personal Trading Coaches: Looking for a personal learning experience. Now you can get it with InvestXE. It has the best-in-class personal trading coaches who can mentor you on individual levels. With this feature, you not only can get customized support but a thorough learning experience as well. With individualized mentorship, you can hone your trading skill in a personalized way.
Online Trading Courses: If you don't have enough time to take on regular trading courses, you can opt for an online trading course offered by InvestXE. They can easily fit in your busy schedule as you can take them at your convenience. Whether you are a new trader or an experienced one, you can reach your highest trading potential via these courses.
Customer Support
InvestXE offers strong 24/7 customer support to all its users. InvestXE customer support team is available in nearly 170 countries, making sure that every user gets support when and where needed. Its customer support is available via phone, email, Telegram, and WhatsApp.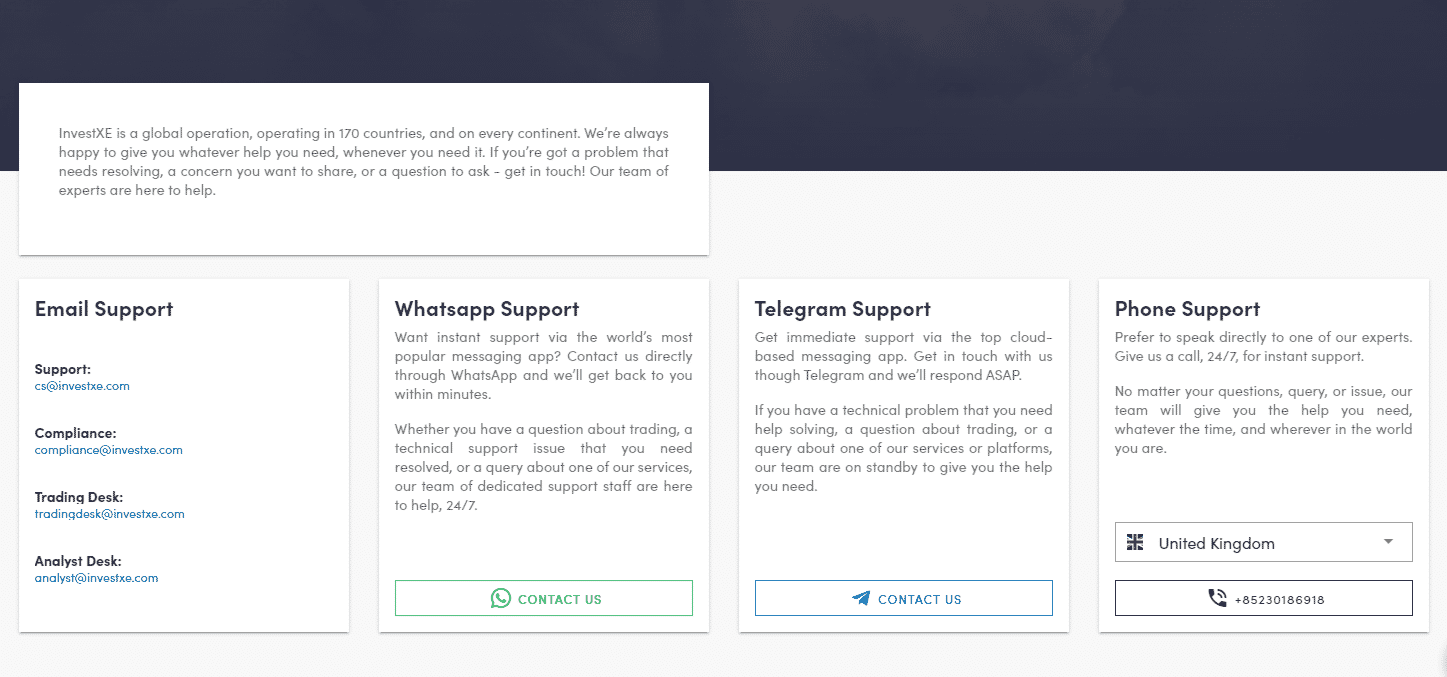 InvestXE Review- Customer Support Options
Phone Support: InvestXE phone support is quick and direct. If you are looking for one-to-one interaction to get help on any trading-related matter or resolve any problems, InvestXE phone support is the way to go. The phone numbers for every country is available on its website. Choose your country to get the phone number.
Email Support: InvestXE works across more than 170 countries. It offers its support via emails. Users can contact InvestXE through the following email addresses:
Support: cs@investxe.com
Compliance: compliance@investxe.com
Analyst Desk: analystdesk@investxe.com
Trading Desk: tradingdesk@investxe.com
Telegram Support: It is one of the top messaging apps, and hence InvestXE has included it in its customer support. Whether you have any trading related queries or are facing any technical issues related to the platform, InvestXE Telegram Support can offer instant help for everything.
WhatsApp Support:Users of InvestXE can reach its customer support via WhatsApp too. The handy features, security, and directness of this messaging app have made WhatsApp a well-liked app for people worldwide. You can access it via phone or desktop. InvestXE extends its customer support to its users via WhatsApp for easy availability and around the clock support for any issues or questions.
Wrap Up
If you are looking for a futuristic online trading platform, then don't look further than InvestXE. InvestXE is customizable, simple-to-use, and intuitive. What makes it a futuristic trading platform are its trading tools, educational section, support, and services. The online trading platform caters to both newbies and experienced trading dogs. InvestXE extends its services for soft commodities, energy commodities, cryptocurrencies, precious metals, and currency options. Its range of tradable instruments is backed up by fantastic customer support via in-house analysts, personal relationship managers, and more. Through this InvestXE review, you must have found that InvestXE provides some rare trading services and insights. All in all, it can help you take the entire trading industry by storm.
FAQs
1. Which Device Do I Need to Run the Flagship Platform of InvestXE?
Ans. InvestXE's flagship platform that is the MarketPro 1.0 can be run on any device and any browser.
2. What Are The Topics Covered in the Educational Courses at InvestXE?
Ans. The topics covered in these courses include leveraged cryptos, market trends, commodity trading, trading strategies, and more.
3. How Can A Personal Trading Coach At InvestXE Help Me?
Ans. A personal trading coach at InvestXE can offer you individualized mentorship. You can ask questions or request their help whenever needed.